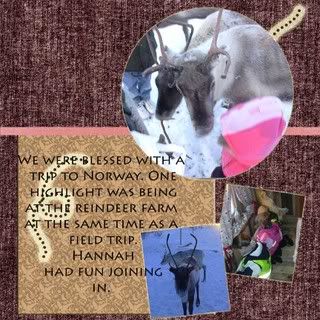 The first image uses Jill and Jack's Template #38 and the 2nd layout used Template N More Template Challenge 6. This second one is a part of this week's challenge on Do It Digi. I made a two page spread with both templates. It was fun to see how using very different templates with the same paper came up with a great look. I used Templates N More 123 Rustic Elegance paper for both layouts. I used the Font Lithos Pro for both. On the 2nd page I used a "heavy outer glow" on the Doodle layer.
The 1st page highlights the fact that while most of the family was enjoying winter in Norway my oldest was enjoying summer in South Africa. It was fun to think about that fact that we were almost at the same longitude but at really different latitudes. So I included a picture of us (the trip was a gift from my brother in law and 23 of us traveled together) all bundled up out in the snow and my son in his short sleeves with green behind him. The 2nd set of pictures highlights the fact that we saw a penguin in the aquarium in Bergen (which my youngest pointed out was not an arctic but antarctic animal) while my oldest was saw a penguin in the wild.
The 2nd page highlights one of our last days in Norway. My youngest was very excited about seeing the reindeer and then got even more excited when we went in to warm up and ran into a group of school children about her age on a field trip. While most adults in Norway speak at least some English the younger children haven't had it in school yet. I was worried that Hannah would be disappointed when she couldn't talk to the children so I let the teacher know that she only knew English. I shouldn't have worried though within a few minutes she was in the middle of group of giggles. She even got to share lunch with them.
Since I already have a big trip album of our whole trip I chose to just make a couple of quick pages for our school album.